Develandoo AI Innovation Lab in collaboration with New Relic launched the coolest events of 2019! We hosted an engaging meetup with folks that are interested in improving business processes and enabling sales predictions by using AI. The event took place this month on February 7th in Munich.
The meetup titled Business intelligence from your monitoring data/let's dive into DATA, was dedicated to giving answers to questions like,  can we identify users and unique customers to predict which products and sales channels will have the highest impact and response, is it possible to integrate data from different consumer channels to interact with and  deliver them the right message? Can we leverage artificial intelligence or a smart marketing platform to power and automate creative pieces and campaigns?
Talks were given by top practitioners in the field of AI, representing such companies as Epica AI and New Relic. It was obvious from the audience's enthusiasm that they were engaged in learning about the many practical examples and use cases provided by our speakers to fully understand the scope of the topic.
The event organizer, Head of Customer Engagement and Company Culture at Develandoo, Valeri Kozarev, gave an opening speech and introduced our speakers to the audience.
Our first speaker, Harry Kimpel, is a Solution Consultant/Architect at New Relic, and has a development background of more than 20 years, specializing in cloud computing, services, microservices, and app modernization/migration. His presentation was devoted to leveraging monitoring for better decision making, and further presenting the 5 main keys to the successful result,  Kimpel explained how each of them can work.
Key 1-Improve problem occurrence, isolation, and resolution
Key 2-See every interaction and catch problems before your customers do
Key 3-Mitigate risk, as risk management is at the heart of building highly available systems
Key 4-Monitor availability and availability response
Key 5-Build and measure business KPIs
Our next speaker, Lead Data Scientist at Epica AI, Andrei Lapanik, presented how they process customer data in Epica. He then showed how it's possible to analyze this customer data and understand what kind of value can be extracted.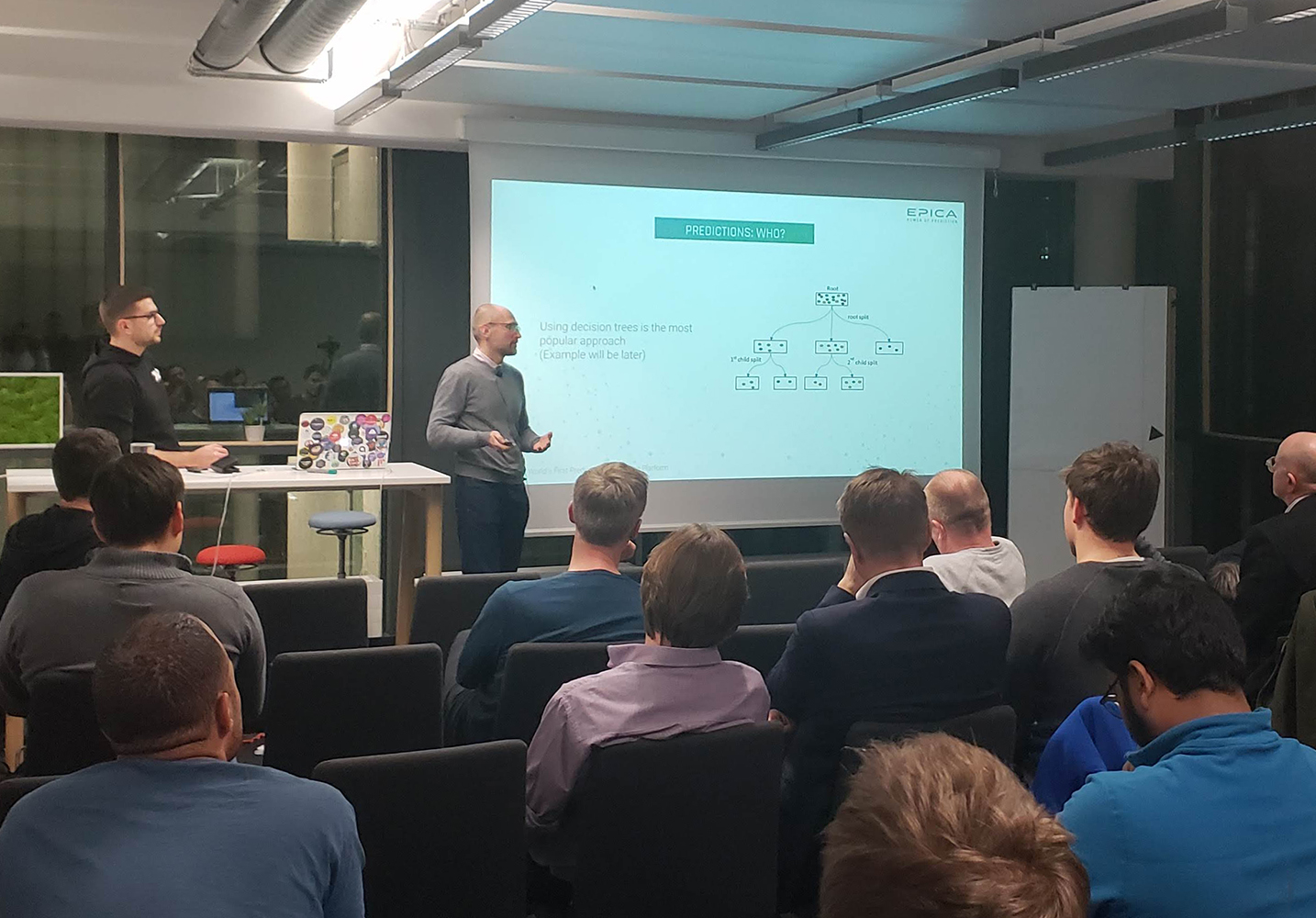 He says customer data is important and it's a big deal. This is the billion dollar market and everybody tries to improve conversions in all possible ways. After the thorough presentation another representative from Epica AI, VP of Global Business Development, Andrés Soler showed how it's all possible based on the real use case. Soler talked specifically about the case related to Grupo Godo,  one of Spain's top media holdings headquartered in Barcelona. Its annual revenue is 173 million and it has over 1000 employees. Grupo Godo turned to Epica AI with a problem. BMW, a regular advertiser of Godo, requested a higher click thru rate (CTR) on digital campaigns advertised on its main digital assets.
Epica AI's hypothesis was that CTRs for BMW campaigns could be higher if predictive clusters of users are created (using Epica's AI platform) and if users of those segments were exposed to exactly the same ads as a control group, whose ads would be, as usual, contextually segmented. Using their solution on its 3rd iteration, Epica AI's platform increased BMWs campaign CTR's by 83% versus the control group.
The event organizer, Valeri Kozarev, was excited about the high engagement from the audience both at the registration phase and the main event. He has received very positive feedback from audience members. ''There was a very hot, geeky discussion between data scientists in the audience during the presentation of the prediction modeling solution, and the atmosphere was amazing", Kozarev added.
Want to know how exactly the above-mentioned mechanisms work? Then we suggest you take a look at the video below where you can find the full meetup and talks in detail.
We're thankful to our partners for making this meetup a reality, making it an event of tons of useful information and insightful discussions, by the most professional people in the field, and of course not forgetting the most engaged audience!
Topics:
Artificial Intelligence